Sample Stock Fonts: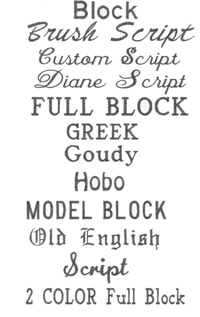 Stock Design:
If you are looking for an embroidery stock design that would would represent your organization you can browse the designs at the Web site listed below. We can personalize the design for your company with your company name or other text. If you find a design you like, please make a note of the design number and refer to it when you contact us.
Sample Lettering Layouts: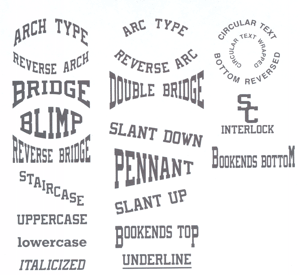 Available Colors
We have all of the basic thread colors. The following list consists of the most commonly used colors.
BLACK

RED

ATHLETIC GOLD

OLD GOLD

YELLOW

SILVER

CHARCOAL

MAROON

KELLY GREEN

DARK GREEN

COLUMBIA BLUE

ROYAL BLUE

NAVY BLUE

ORANGE

PURPLE

BROWN

TAN

CREAM

WHITE
If your desired color is not listed, please contact us because we have many other colors to choose from.